Gold Bell Furniture Bangkok Thailand
---
Customer's Revie
LETTER OF RECOMMENDATIO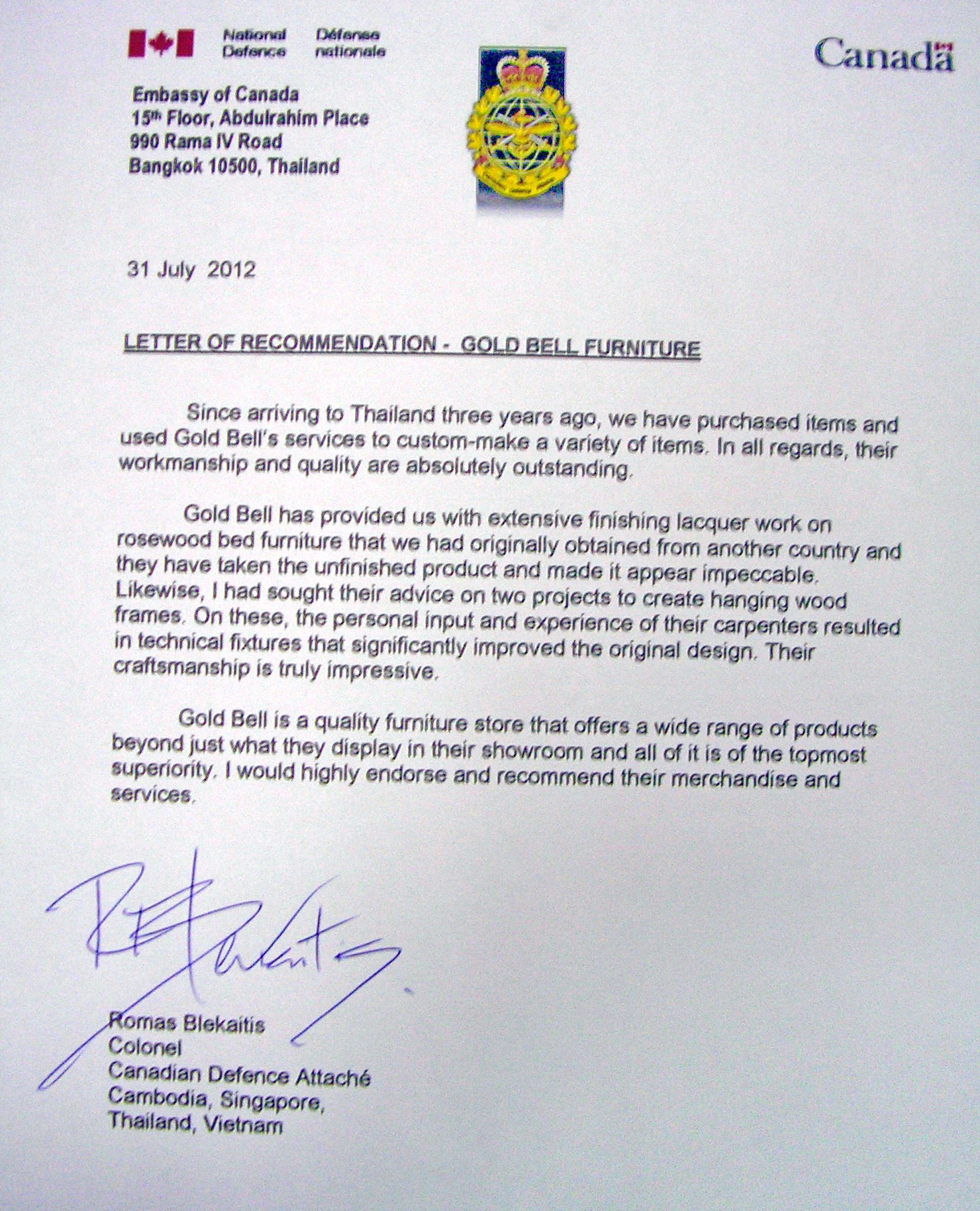 N - GOLD BELL FURNITURE
Since arriving to Thailand three years ago,we have purchased items and used Gold Bell's services to custom-make a variety of items, In all regards, their workmanship and quality are absolutely outstanding.
Gold Bell has provided us with extensive finishing lacquer work on rosewood bed furniture that we had originally obtained from another country and they have taken the unfinished product and made it appear impeccable. Likewise, I had sought their advice on two projects to create hanging wood frames, On these, the personal input and experience of their carpenters resulted in technical fixtures that significantly improved the original design. Their craftmanship is truly impressive.
Gold Bell is a quality furniture store that offers a wide range of products beyond just what they display in their showroom and of it is of the topmost superiority. I would highly endorse and recommend their merchandise and services.
Mr.Romas Blekaitis Colonel
Canadian Defence Attache, Cambodia,Singapore,Thailand,Vietnam
........31 July 2012..........
---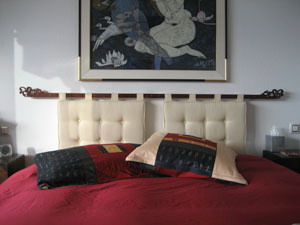 Dear Khun Ranya,

I believe my request sounded initially rather strange to everyone - thank you for having implemented it so well and so fast, this to my full satisfaction !

As you can see in the attached pics, the carved stick in rosewood is both, useful and decorative to hang the two pillows at the head of the bed. I do very much appreciate the work done by your company in terms of craftsmanship, quality, price and timely delivery. It was for me not the first time I could "create" something together with you nor it will be the last one. Thank you for your great service!

Very best regards

Dr.iur. Jean-Pierre Knellwolf
Av. de Florimont 5 ,1820 .....Montreux, Switzerland
---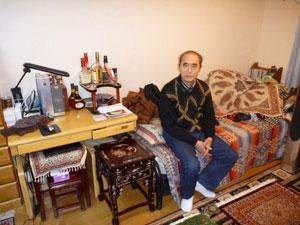 Dear Ranya san,

What a nice day.

Today, December 28th, I just took a custom clearance at the Tokyo port.
It was the last business day for the Tokyo customs and the storage also,
finally I got your Rosewood furniture in this year, just as I asked you at that time on this November.
Your product is just beautiful, wonderful, and perfect beyond description.
Thank you so very much, again and again.

Well, here are some pictures of my room with your Rosewood funiture.
Some of them are with my Audio system and Persian carpet, and the other one is with my father,
who also took an order made Rosewood table just from you Goldbell furniture about 20 years ago in Bangkok.
Now we are so very glad to take your product again.
Hope that you keep making such a nice Rosewood furniture.

Best regard,
.....Yu (Tokyo, Japan).....
---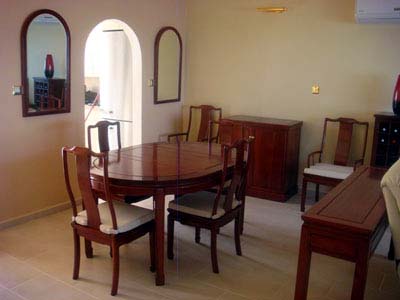 Dear Ranya,

We have recently returned from our home in Cyprus and are delighted to tell you that the furniture from Gold Bell arrived safe and in excellent condition.

Many people who have come to our home have remarked on the look and quality of the furniture and have been very impressed with it. Attached are a few photographs although we still have a few things to do before our home is completed.

Thank you and everyone at Gold Bell for providing furniture which will give us great pleasure!

From Mary and to you and everyone at Gold Bell may we wish you a Happy Christmas andNew Year!

..............Gurnos Stonuary,Limassol, Cyprus..............
---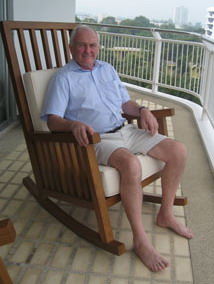 This is just to say how absolutely delighted Pam and I are with the two teak rocking chairs that you made for us. They are exactly as we wanted them. Now that we have them at our flat in Hua Hin we have the time to admire them and notice the finer details. Not only is the design exactly as would have wished but the quality of materials, construction and finish is really excellent. We are also very happy with the cushions and the colour of the cushion covers.

I attach some photos of the chairs on our balcony at Baan Lonsai - showing you that they are already being put to good use!

With best regards from two very satisfied customers,

John..Hua Hin,Thailand.

PS. We love the elephant stool you gave us as a gift and think that our two grandchildren will love it also.
---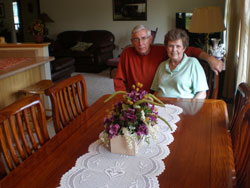 We were in your store in Febuary and bought a dining room set and a magazine stand....it arrived in Chicago Tuesday and my husband picked it up yesterday...Wednesday, April 7. It arrived in perfect condition...we could not believe the care and skill you packed it with. It is sitting in my dining room now and is absolutely beautiful. We will think of you and your store everytime we look at it. Again, thank you. Buying furniture at your store was an amazing experience for us and we are so happy we decided to do it.
Sincerely,
Linda and Buren McMahan
Streator, Illinois
---
DEAR RANYA,
I HOPE EVERY THING OK. ATTACHED FOR YOU THE TWO PAYMENTS FOR THE INSURANCE AND FINAL PAYMENT FOR THE PAPER BAGS. PLEASE CLOSE NOW I CLOSE ALL PENDING NO MORE PAYMENTS . I REALLY THANK YOU VERY MUCH FOR YOUR GREAT HELP AND YOUR REALLY A GOOD FRIEND . PLEASE CONVOY MY WARMEST REGARD TO YOUR STAFF AND FOR THE HEAD CARPENTERS ALSO FOR THE TWO SISTERS ALSO FOR YOUR BROTHER . PLEASE ACCEPT MY TRULY WARMEST THANKS TO YOU .
LOOKING FORWARD TO SERVE YOU IN ANY THINGS IN OR FROM OUR GULF COUNTRY. THANK YOU THANK YOU

BEST REGARD TRULY YOURS

ABDULAZIZ ALGORANISS
---
To whom it may concern:
With reference to the firm Goldbell most recent information sheet I wish to emphasize that this firm is one of the most reliable manufacturers I ever encountered. Not only the friendly services of Khun Ranya (sales) and Khun Lek (technical services), the later making numerous valuable proposals (I work with them together already a few years). Goldbell does not only sell the standard sizes described in the catalogue, but they also manufacture items exactly tailored to your suggestions. Send them a drawing, there will be an immediate response!
It is a pity that shipping costs have increased quite dramatically.
Peter Kochs, Munich, Germany
---
Please let me add my voice to yours about how wonderful Gold Bell is. I'm an American currently in Thailand on an expat assignment and I have Gold Bell ALL over my home here. Not to mention the 2 beautiful customs pieces I had made.
My thanks to Khuns Ranya and Lek for their help in designing these two items.
Sincerely,
Diane Jourdan, Nonthaburi, Thailand
---
Many Thanks for your new information
WE are very pleased with the furniture we bought when we were in Bangkok and although we are not in the market for buying at the moment we would like to be kept informed of any new products and also kept up to date with the existing lines.
Kind regards,
Frank Milner.