Gold Bell Furniture Bangkok Thailand
Catalog no. 550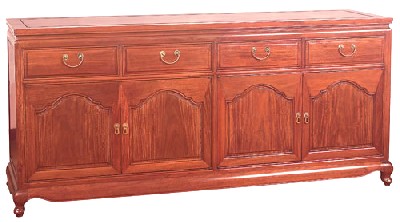 Description
Rosewood Sideboard, 4 Drawers & 4 Doors with Louis Leg.
Size 20 X 72 X 33" inch H. (1 inch = 2.54 cm.)
Price in plain design Thai baht 65,000.-, Carved 70,000.- , Few M.O.P. 73,000.- , Full M.O.P. 79,000.-
Shipping volume 1.5 cubic, shipping cost to US main ports, Thai baht 26,000.-
Above shipping cost included packing, handling and sea freight.
---
The first cubic met shipping cost to main ports in the US = Thai baht 16,500.- and any following cubic met cost Thai baht 9,500.- only. Meaning, if you ship more items the same time, you save money. For the actual shipping cost, around the world, please ask us here
---
Payments
can made with your Master / Visa credit cards or with direct deposits to our bank accounts in Thailand.
Manufacturer & Shipping Time.
If the item is out of our stock, we need about 8 weeks to produce this items again. The approximate shipping time, to any main ports worldwide, 35 days.